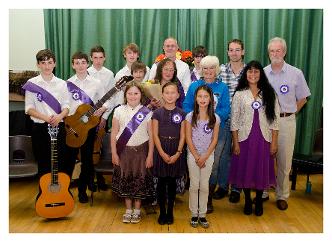 Photo : Greenstrings Music students with Chairman Juliet Rogers, Chairman of The Moorland Mousie Trust at a Concert for MMT to raise awareness of the rare breed Exmoor Pony
Thanks for coming to the Greenstrings Music "About Us" page

The name "Greenstrings" was the brainchild of Liz's Mother representing "green" for the environmental work Liz was deeply involved in the 80's and 90's and "strings" representing the guitar - her "musical voice" that helped her entwine music and environmental projects together.

Liz wrote many environmental songs in the 80's and 90's which were used in projects to bring awareness to "green" issues including the plight of the African elephant, the mountain gorilla, whales - and even the air we breath! These songs were used within a teaching framework in schools and busking in market squares! - along with concerts for environmental organisations.
Liz is very grateful to the guidance and support of her music mentor Carlos Bonell (www.carlosbonell.com) who took an active interest in the work of Greenstrings Music in the late 80's and 90's writing some beautiful harmonies to songs Liz wrote - in the way that only a great Master of his Art as Carlos Bonell can! Carlos Bonell also took part in several environmental concerts with Greenstrings Music students to help raise awareness of environmental themes.
Students studying with Greenstrings Music are encouraged to find the fun within the important aspects of laying a solid foundation in technique to their chosen instrument. Whether our fingers and Minds are of a delicately young OR delicately older age - students are encouraged to explore technique and music theory in their early stages of learning, so laying a solid foundation in the Art of Playing.

Music from Baroque to Blues styles are studied and exam courses are available.
Voice Production : is based on the Italian Method and incorporates music study from the World of Musicals and Spiritual Music
Over the years Liz has found that frequently a child starting their 1st music lesson has not at that point known that one day they will be becoming professional musicians. However, several of Liz's students over the years have now become professional performers and music teachers - laying the foundations to that 1st step in music learning is an essential ingredient to that Path......

The Greenstrings Music approach
The Greenstrings Music approach is to ensure that the Child of Today has the opportunity to become the professional Musician of Tomorrow if he or she chooses that Path - and to develop the Love of Playing Music so that it grows with them and becomes a friend to them throughout their lives - whether they choose to become a professional musician - or just want to play a musical instrument to relax with.
Liz's background has been entwined with both music and holistic medicine and this is reflected in her holistic approach to music teaching, finding over the years that learning a music instrument is a great way to improve confidence and focus. If you have a child or are lacking in confidence as an adult - try some voice production classes - you will find that just by hearing your voice sounding stronger very quickly confidence will grow.

Studying a musical instrument requires both left and right brain activity (logical and emotional hemispheres of the brain) - having fun with music is a really healthy way to live!