What has this wonderful MMT Traprain Pony "Whistler" got to do with music?......please read below......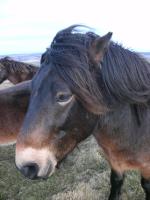 July 2020: Liz has one place available for a child keen to study classical guitar through The Whistler Music Foundation (guitar can be provided). If you are a low income family with £16,500 or less income and cannot afford to pay for private one-to-one music lessons The Whistler Music Foundation would love to here from you! Just phone or text Liz on 07454 655 955 or e.mail by going to our Contact Us page.
You can find out more about The Whistler Music Foundation by reading below.
About The Whistler Music Foundation
The Foundation has been created as a celebration of MMT pony Whistler who inspired Liz to create the Foundation.
However, while "Whistler" is the main inspirer of the Foundation all the MMT Traprain ponies have taught Liz much about the meaning of "community"..... The 13 MMT Traprain ponies certainly understand well the meaning of "community" and daily work together as a "whole" supporting each other in their daily activities. (To read more about the Life of the MMT Traprain ponies -and their friends who live at North Berwick Law - go to www.traprainponiesofexmoor.com).
"East Lothian Life Magazine" Winter 2014 and Spring 2015 editions also feature the MMT Traprain ponies.
Liz of Greenstrings Music looked for a way to see how best "Greenstrings" could reflect the wonderful "Community Spirit" that the MMT Traprain ponies taught her....
and so......
The Whistler Music Foundation
was formed....
One of the things the 13 MMT Traprain ponies taught Liz was how they totally Trust that each day their needs will be met. Liz works as a volunteer at Traprain Law (where the MMT Traprain ponies live) and meets many people from all walks of life. Frequently people visiting Traprain Law say that by taking a walk there - and seeing the ponies "in action" - helps them to adjust better to the stresses of modern day living..... frequently the struggle for meeting the material aspects of life encroaches severely on their mental/emotional life..... so much emphasise nowadays is placed on "financial power and prestige" - it is easy to lose sight of the "true meaning of life".....
So Liz decided that one of the most important aspects of The Whistler Music Foundation was to put aside financial limitations on it - by seeking fellow music teachers in our community to show willingness to give just half an hour of their time (a mere coffee break for most of us....!) and donate their time to teaching a child from a poverty stricken background - or a family on a very low income (not necessarily on Income Support).
Teaching would be given on a "one-to-one basis only as Greenstrings Music believes that each child should be given the opportunity to firmly establish their "foundation skills" in music - which can best be achieved through a "one-to-one" teaching basis - with additional group work being introduced as the child becomes secure in their basic technique and understanding of music.
The Whistler Music Foundation looks to entwine the
"professional" with the "vocational"......
Whats the difference?
Nowdays so much emphasise is placed on "being professional" that it is easy to forget the "vocational"....
We need to be "professional" in our chosen careers - (the business side of life....)
but the "vocational" brings into existence the "heart" element as well - and when we combine both of these elements together we have Perfect Harmony at work.....
The modern day pace of life tends to discourage the "vocational" - but as a community we can turn this around - and in turn not only bring Joy into a child's life through the joy of learning to play a musical instrument - but also in turn help to create more harmony within that child's whole family....
in turn...... that child will also help the music teacher discover that "inner joy" in giving back. Life is always a two-way path......
Teachers United!
Are you a music teacher living in East Lothian and feel you would like to join The Whistler Music Foundation and are able to donate just half an hour a week to help a child study music who would usually find it impossible to access one-to-one tuition?
You will need to have been teaching for a minimum of 5 years
Have successfully put at least a quarter of your students through exams set by ABRSM, Trinity College or the London College
Have a Disclosure Scotland
Music teaching is a great way to earn a living - but also a wonderful way to express the "community spirit". By offering to give just half an hour free each week of your time to help a child discover the "art of music playing" in their life is also a Celebration of the true meaning of "music in the community"....
Nowadays so much emphasise is placed on the "financial need" before anything can take root.... We all have an opportunity, through The Whistler Music Foundation, to say that there can be a far better way, a more loving and giving way.....
If each music teacher in East Lothian is willing to give just half an hour of their time free of charge each week - think of how many children we can help to discover for themselves the true joy of producing great music - and in the knowledge that they are learning to create a solid foundation of their musical skills best done on a one-to-one basis....
If you are a music teacher living in East Lothian and would like to find out more about this work please contact Liz by using our contacts page by clicking this link or telephone Liz direct on 07454 655 955.
Thank you .....